It was one of those beautiful summer afternoons that makes us fall in love with Berlin all over again when I visited Kiki in her gorgeous apartment in Mitte. Located in one of my favorite streets, the penthouse apartment is a maven of culture and sophistication mixed up with some modern, trendy pieces and droolworthy bookshelves full of fashion and design books. Next to real home made coffee and cookies we got to talk about Berlin, fashion and blogging with Kiki, the editor of The Random Noise.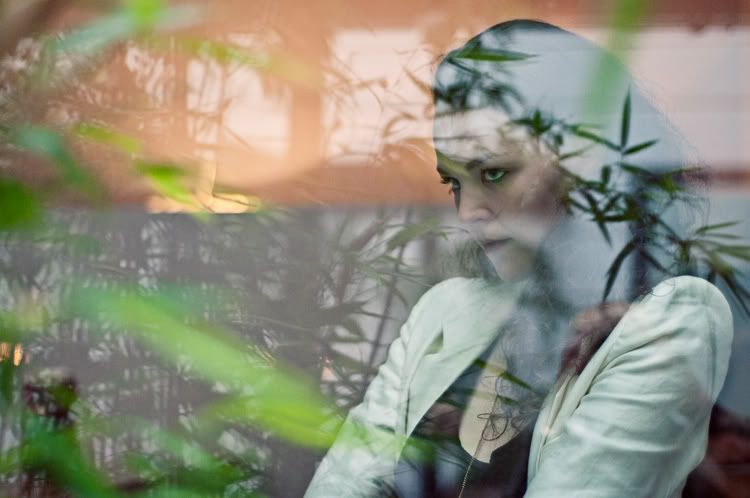 Tell us your story, what has brought you to Berlin? My family moved to the city just before I was born in September'89, so I am lucky to be an original Berliner. When the wall broke down, my dad opened his architecture bureau and we stayed. After school, I got the travel bug, worked in other places for a while and found out that Berlin is actually the place to be for me, so I've moved back!

What's your relationship with the city? Are you planning to live the rest of your life here? Although I've already spent most of my life in Berlin, I could definitely imagine to spend the rest of it here as well. Berlin has everything you need: Old and new culture, talented artists and politicians, great universities and always new projects, creative people, an international crowd and much much more. Furthermore, this mix of cultures comes at affordable living expenses. Which other city can give you this lifestyle right now?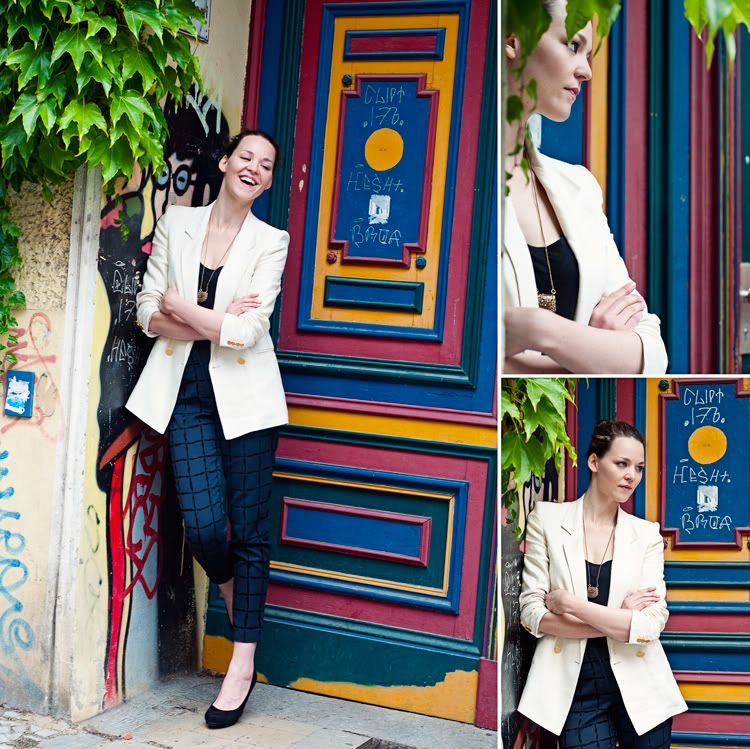 Which is your favorite neighbourhood? I think every neighbourhood has its own fascinating places. Whether it is a nice restaurant in Charlottenburg, the lakes in Grunewald, the clubs in Kreuzberg or the flea market in Prenzlauer Berg - everywhere you find great spots to go to. I live in Mitte and especially love it for the architecture like the Galerie Bastian made by David Chipperfield, the brick buildings in between new ones or the modern, individual interiors of the local boutiqes. No to mention that the great nightlife in walking distance is an added bonus!
You share fashion news and your daily life through your blog, The Random Noise. What has inspired you to start a blog and what are your future plans in the blogging / fashion industry? After my interships at a fashion magazine and a design label, I wanted to have my own platform to share my opinion about fashion news and design. Additionally, I get the opportunity to meet new artist and take a real look inside the fascinating fashion industry by visiting cities, places or the Berlin and Paris Fashion weeks. For the future, I could imagine different ways to reach my goals and especially in the innovative fashion and blogger scene, there's much more to come than we know right now.
Where do you shop in Berlin? The best store for vintage apparel is the Sommerladen (Tucholsky Straße / Linienstraße). Great little boutiques and Berlin-based labels such as Lala Berlin and C'est Tout have wonderful, individual stores in the neighborhood around Mulack- and Torstraße. If I had the money, I would by almost everything form the Cabinet 206 Store.

Favorite online shopping destinations? Of course I love to look at the new stuff from Asos or Urban Outfitters and Topshop offers the perfect cuts in the "tall section" for me as an almost 6 feet tall girl. Great American shops with a variety of brands and styles are Tobi (tobi.com), Pixie Market (pixiemarket.com) and Oak (oaknyc.com).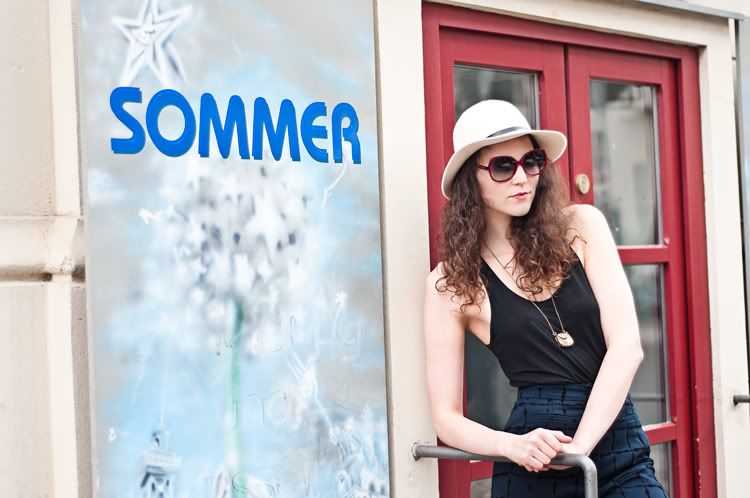 Who are your favorite designers? I already had the honor to work in the studio of Albert Kriemler of Akris and was impressed by his love for the details and his eye for simple and beautiful designs. Furthermore, Miuccia Prada, Raf Simons and Karl Lagerfeld are unbelievably talented and able to create unique looks, which are trendsetting for the whole fashion industry. I often look at their design as inspiration for the clothes I make for myself.
How would you describe your style in 3 words?
Feminin. Cool. Suitable every day.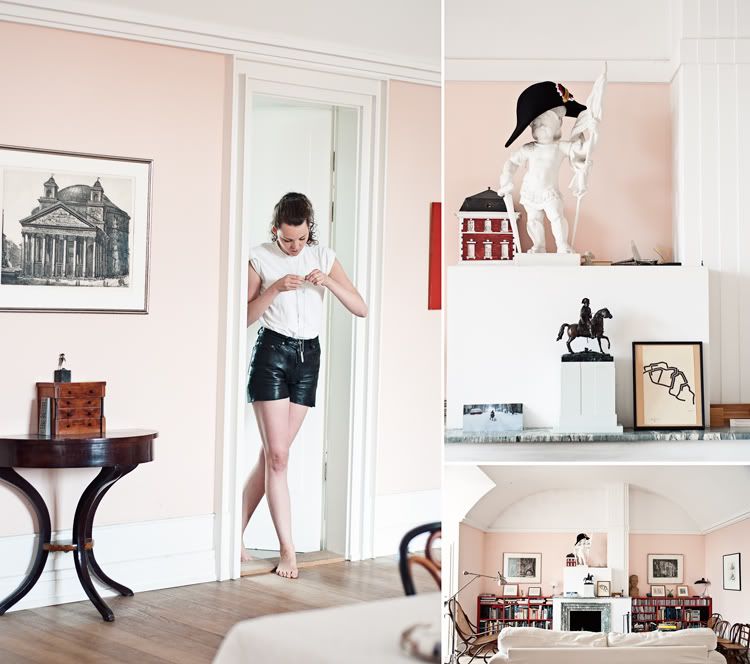 What's inspiring you? The Architecture from Frank Lloyd Wright, a dress in an old Caravaggio picture, the packed streets of Istanbul or a book by Robert Venturi I just read. But it's not just a specific creative product or situation, I think we are all subconscious affected by ongoing processes like the changing of a society or city, the attitude towards life of the people we get to know and the situations in life we have absolutely no influence on.
Any style icons you look up to?
I don't have a specific person I look up to, but I like the elegance of Bianca Brandolini, the Russian chic of Miroslava Duma and the cool look of Hanneli.
Favorite magazines / fashion blogs? I actually have a lot of blogs in my reader and can't really decide because there is such a variety of them. I especially like to look inside apartments like The Selby or FreundeVonFreunden show it. For magazines, I love Architectural Digest, Qvest and of course the German and Paris Vogue.
Favorite item(s) in your closet? My black leather shorts form Urban Outfitters. During the day with blazer and flats, for the night with a pretty shirt and sandals.
If you could splurge on any fashion items right now, what would you buy? Classic Birkin bag and crafted Italian shoes.

What are the things you cannot live without (beauty, fashion, technology)? Probably my MacBook. It's my worktool, my newspaper, my music station and my connection to the www.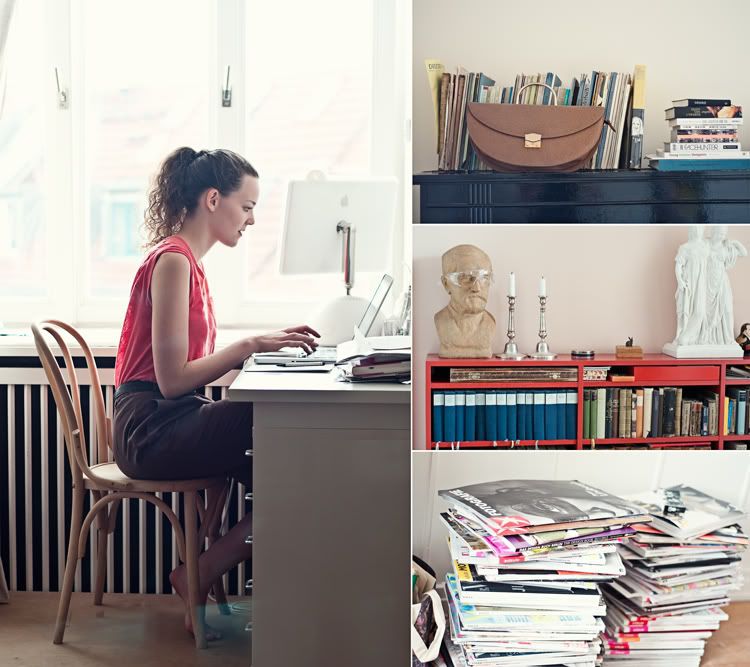 Favorite place for a date night? A nightwalk trough the streets of Berlin while breathing in the summer air. Less is more!
Favorite café/restaurant/bar? New places pop up in the city almost every week and it's great that you can always experience something new. In the long run, I can recommend the Quiche for brunch at Café Fleury and a real American burger at The Bird. They serve delicious sushi and lychee lemonade at Kuchi's and as a little hint from me: Go there for lunch! It's cheaper and the menus come with a yummy miso soup. Although it's small, a bit dirty and always packed, the King Size is my favorite bar with fantastic drinks and danceable music.
Favorite place to let loose? Any rooftops in Berlin. Either your own, the one of your friend or the fancy top of the Soho House. What is better than looking at the skyline of Berlin?

How would you spend a perfect Berlin day? Great breakfast in my kitchen, a walk trough the neighborhood with a little shoe shopping, coffee and carrot cake at The Barn. Taking a nap in the park of the Museum Island , eating the appetizer prawns at Grill Royal and finally sneak in to an exclusive party at a place you did not know before and where drinks are served for free.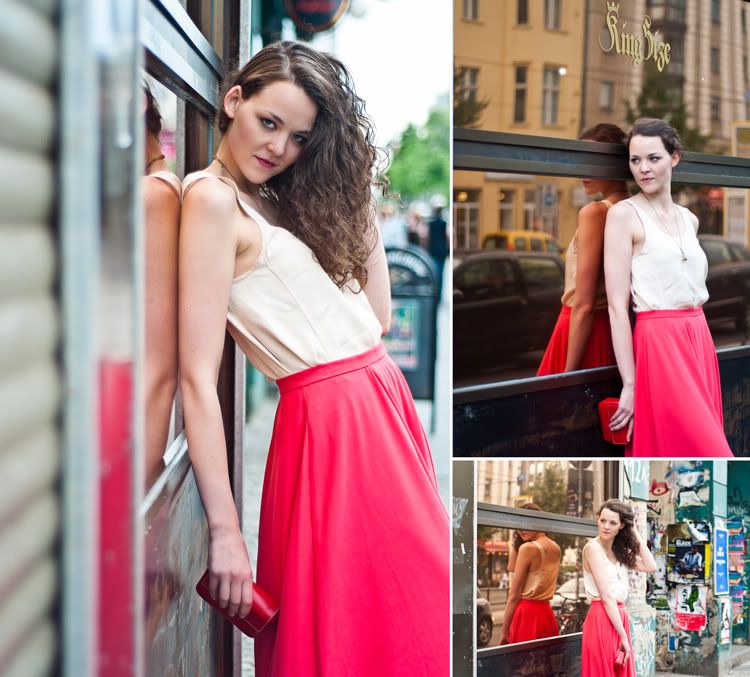 A girlfriend is coming to town for the first time ever. What are the places you'd definitely show her? First of all, I'd rent bikes. That's the best way to experience Berlin. After riding by the typical sights, I'd show her a variety of fantastic buildings like the Gemäldegalerie, the townhouses close to Gendarmenmarkt and the great architecture of the Neues Museum. The Plötzensee is perfect for swimming, at Kiki Blofeld you have the best view over the spree (and of course it's a wonderful name) and for the evening: Theopen air cinema in Kreuzberg!

Thanks for the interview Kiki! There are a few places among your favorites which I just cannot wait to try ASAP! ;)